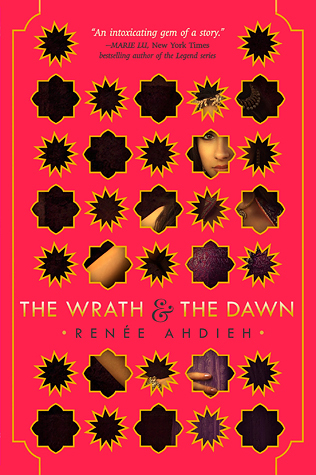 One Life to One Dawn.


In a land ruled by a murderous boy-king, each dawn brings heartache to a new family. Khalid, the eighteen-year-old Caliph of Khorasan, is a monster. Each night he takes a new bride only to have a silk cord wrapped around her throat come morning. When sixteen-year-old Shahrzad's dearest friend falls victim to Khalid, Shahrzad vows vengeance and volunteers to be his next bride. Shahrzad is determined not only to stay alive, but to end the caliph's reign of terror once and for all.




Night after night, Shahrzad beguiles Khalid, weaving stories that enchant, ensuring her survival, though she knows each dawn could be her last. But something she never expected begins to happen: Khalid is nothing like what she'd imagined him to be. This monster is a boy with a tormented heart. Incredibly, Shahrzad finds herself falling in love. How is this possible? It's an unforgivable betrayal. Still, Shahrzad has come to understand all is not as it seems in this palace of marble and stone. She resolves to uncover whatever secrets lurk and, despite her love, be ready to take Khalid's life as retribution for the many lives he's stolen. Can their love survive this world of stories and secrets?




Inspired by

A Thousand and One Nights

,

The Wrath and the Dawn

is a sumptuous and enthralling read from beginning to end.
Ok, so I have a bunch of books that I have to read and review, and a have a few that I have already read, and I need to post my review. However, I got my promotion at work!!!! And I am still taking classes, working on my masters.... which leads to less time reading and blogging...
However, I have wanted to read this book for a while, so when I came across a copy, I jumped at the opportunity, and read it in 2 days.
And it did not disappoint! Even though some of the aspects left a bad taste in my mouth, as a fictional series, it kept me engaged throughout its entirety.
I know this is a short review, but I felt the need to post something about it.
READ IT! It's awesome!
I will have to watch out for future work from Renee Ahdieh! Beautiful writing!
I'm also kind of glad that I waited to so long to read it, because the squeal, The Rose and the Dagger, is going to be released in a week or so. Even though I was a little disappointed, because I thought that the sequel had already been released, over the past week or two... I was a little sad, because when I finished, I was planning on immediately starting with the next one.....
But alas, I will have to wait a few days to continue....
I guess I will just have to work on homework tomorrow instead... : (