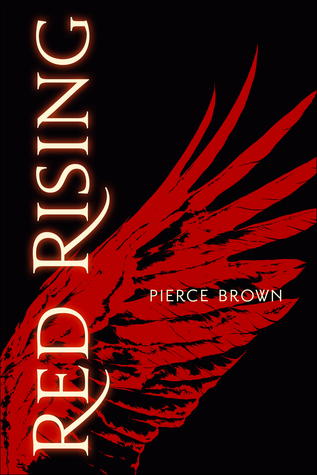 Red Rising by Pierce Brown
OK, I must start this post by saying, I am an idiot! The first page of my notes for this review note my confusion at the change of characters, and even the change of planet from the first book.
But wait...this is the first book in the series...
So, I recently read
Six of Crows
, which was awesome, and I was upset that I would have to wait so long for the sequel to be released. If you look at the cover of
Six of Crows
, it looks similar to this cover, in that it has a black wing on it, and this one has a red wing on it. I'm not sure how my mind did this, but when I saw a giveaway for Red Rising, my brain thought, "Oh, I won't have to wait so long to read the sequel!"
So, when I started reading the book, I began my review about how excited I was that I wouldn't have to wait so long to read the sequel to
Six of Crows
, because I found a copy through the library.
I am ashamed how long it took me to look at the GoodReads page, which clearly says, after the title:
(Red Rising #1), especially since this book is set on a completely different planet than Six of Crows. I do not know if I even want to say how far in the book this was... I must also note, that in my first page of notes on the book, that I wrote "I was so confused by the first chapter, that I had to be sure that I was not reading the sequel to
Red Queen
, which I am also patiently waiting to read, and I have on hold at the library."
But I digress...
Now, on to the review of Red Rising #1, which is NOT the sequel to Six of Crows (or any other book, for that matter). Reading the
Panem Companion
has caused me to contemplate what I'm reading on many different levels than I had been. The author does a lot of world building in this book, and he does it very well. Music and dance plays a large role in the main character's community, and unlike in our society, where dance is often deemed as "feminine," the main male character, Darrow, prides himself in his uncle teaching him the dances of his people.
Theirs is a society where classism (or should I say, colorism?) rules, but gender roles have progressed, and it is common for women to hold positions of power. In fact, the highest position is held by a women, Octavia au Lunes.
Here, the woman is king.
The importance of family is all Darrow knows at first, and his love for Eo is apparent from the first few pages (I looked at the quotes that I wrote down, and they seem to have mini-spoilers, so I will leave them out, for now).
I found many similarities to the
Hunger Games
that I would not have, before reading the Panem Companion. The character in this book and their society is perhaps even more influenced by the Roman empire than the
Hunger
Games trilogy. This book also reminds me in other ways of the
HG
but I will avoid giving any spoilers....
So I digress...again...
This book also has some huge differences from the HG. I was completely baffled by the ending and cannot wait to see what happens next, and I assure you, when I get the sequel, I will check to make sure it is, indeed, the sequel to THIS book!