Wall Street Journal bestselling author Jeff Wheeler's epic Harbinger series comes to a breathtaking conclusion as two women are swept into a battle that could easily destroy two worlds.
Rescued from a world of poverty, Cettie Pratt has avoided a bleak destiny - until now. Deceived and manipulated, she has been groomed for the ultimate betrayal: to destroy her best friend and stop peace from uniting two war-torn worlds. Her path leads her to a mysterious underworld where appearances can be deceiving.
Sera Fitxempress knows the value she has to her enemies. As heir to the empire, she must keep her foes at bay and prevent them from unleashing a being of unspeakable evil upon the world, while fighting a brutal war. But her enemies are more cunning than Sera expects, and the key to their plans is none other than her best friend.
Neither woman knows what to believe. Neither one knows if she can trust the other. Both Cettie and Sera have made decisions that have irrevocably changed them. But the decision they have yet to make will determine the fate of their world...
Review
Let me first apologize! Sorry I have not been posting often. I have also not been reading nearly as much as I normally do, which has been terrible.
I work full-time, and I am also doing my internship for my master's degree right now. So, right now, I am usually either at work, at my internship, or sleeping. I haven't had time for much else. I am counting down the days until I am able to read more again, though!
Now on to the book...
If you have not read the first 4 books in the Harbinger series, check out my reviews for them first here:
Click each book cover to read my review for that book.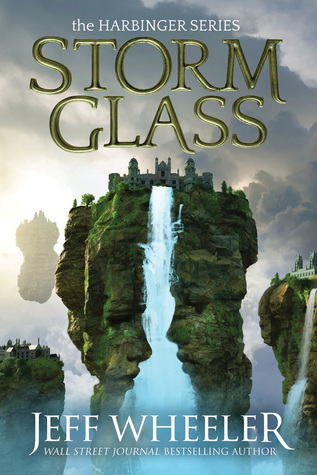 This was a great ending to the Harbinger series!
The first book had me hooked immediately, and Jeff Wheeler kept his hooks in me for all 4 books after that!
I was wondering how the author was going to try to wrap things up, considering how much happened in the third book. I was so happy with how he did it, although I kind of wish a couple of parts included a little more substance. I won't give away any spoilers, though.
However, overall, I am happy with how the series ended. The third book threw lots of twists and turns into the story, and this book ironed many of them out. This book wrapped everything up nicely.
I don't think there will be another book unless it follow a completely different plotline. However, I really hope the author decides to keep going with the characters from these books. I got attached to these characters and am not ready to let them go just yet.
Now that I have finished this series, I need to go back and read the
Kingfountain
and
Legends of Muirwood
books! Even if I can't read more about the same characters, at least I can read more stories set in the same world!
Thank you to the author, the publisher, and NetGalley for giving me a copy of this book, in exchange for an honest review!