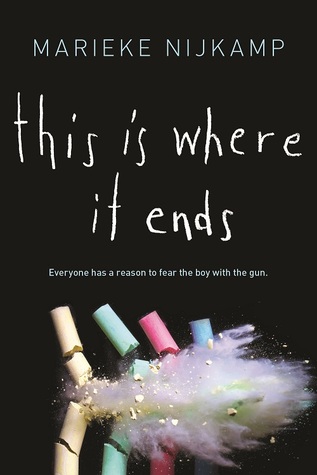 10:00 a.m. The principal of Opportunity High School finishes her speech, welcoming the entire student body to a new semester and encouraging them to excel and achieve.
10:02 a.m. The students get up to leave the auditorium for their next class.
10:03 a.m. The auditorium doors won't open.
10:05 a.m. Someone starts shooting.
Told from four different perspectives over the span of fifty-four farrowing minutes, terror reigns as one student's calculated revenge turns into the ultimate game of survival.
THIS BOOK WAS AMAZING!
I read it in a day.
It was a great story and very well written.
I've been wanting to reah it since before it was released and just got a copy off a long hold list from the library. It was well-worth the wait.
This is one of the best YA books I've read in a while.
In today's society, this book gives an excellent look into something that's been happening all too often, and it gives a glimpse at how it doesn't just affect the injured or killed, but people that didn't show up to school, their families, their friends, their exes...
It also demonstrates how something so terrible can bring people together and connect them in a way they many probably don't understand.
I wasn't expecting to like this book this much and was very pleasantly surprised. I really just wanted to read it, because I kept seeing things about it. However, I recommend it to anyone, regardless of what genre you usually like.