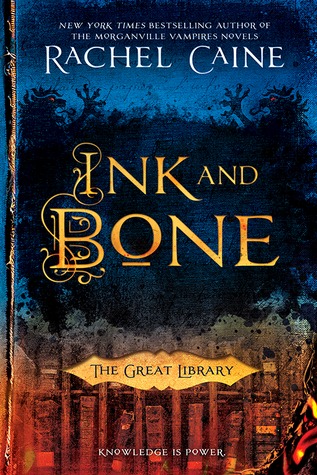 In an exhilarating new series, New York Times bestselling author Rachel Caine rewrites history, creating a dangerous world where the Great Library of Alexandria has survived the test of time...
Ruthless and supremely powerful, the Great Library is now a presence in every major city, governing the flow of knowledge to the masses. Alchemy allows the Library to deliver the content of the greatest works of history instantly - but the personal ownership of books is expressly forbidden.
Jess Brightwell believed in the value of the Library, but the majority of his knowledge comes from illegal books obtained by his family, who are involved in the thriving black market. Jess has been sent to be his family's spy, but his loyalties are tested in the final months of his training to enter the Library's service.
When his friend inadvertently commits heresy by creating a device that could change the world, Jess discovers that those who control the Great Library believe that knowledge is more valuable than any human life - and soon both heretics and books will burn...
Review
I have been wanting to read this book for quite some time, so when I saw it listed on
Blogging for Books
, I jumped at the opportunity to read it. Within the next couple of days after requesting it, I also found a book called
Ash and Quill
on NetGalley and requested it, just because it sounded awesome. Little did I know that
Ash and Quill
is the third book in The Great Library Series! So, I immediately put a hold on the second book,
Paper and Fire
, to download it through the library, hoping the hold would be up by the time I read this book so that I wouldn't have to wait and could read all three, back to back.
By the way, with a name like The Great Library, how could this series not be awesome?! All of the other books I've read about magical libraries have been AWESOME (i.e.
The Library at Mount Char
and
The Invisible Library
series)! Who doesn't love a book about books?!
The very beginning of the book starts with a letter from ancient Egypt, talking about the Pharaoh banning women from studying at the library, before jumping into the story. Here is an exerpt:
His divine wisdom can kiss my common arse. We bling and hobble half of the world, through such ignorance and I will not have it. Women shall study at the Serapeum as they might be inclined. Let him execute me if he wishes, but I have seen enough of minds wasted in this world. I have a daughter.
My daughter will learn.
When I read this, I knew immediately that I would like this book!
Then the prologue starts to get into the story, beginning by explaining that Jess runs books (literally RUNS with them), which are super rare, around London with his family, which is illegal. Owning some books carries the death penalty.
They are called cutters, which are children and teenagers, that literally run books around London. However, they ran in packs, with most of them only carrying trash, in case they were caught, which was often, whether by the Garda or by people wanting money for turning them over to the Garda. The prologue explains one trip where Jess runs a book to an old man that doesn't go quite as planned.
Jess' father was in charge of their family's operation, which is famous for smuggling books. He collected the books, hired the cutters, and mapped out their routes, which they were to stick to at all costs, as at first, they started together in a pack, then spread out, taking individual paths to stretch the Garda thin.
Jess' brother died, because he was caught but kept silent about his identity and his family to protect them. Liam was only 17 years old at the time, and Jess was only 10 and had no idea how he would ever live up to his brother's legend.

After reading the prologue, I knew I would LOVE this book! And all of this happens before the book even properly begins.
The actual story starts when Jess is 16 and his father signs him up to train to work for the Library and spy for him.
I also loved the aspects of historical fiction in this book! Although it is set in the future, it takes place in a world in which the Great Library of Alexandria was never destroyed, and it now rules the world.
The Library's propaganda says, "When you steal a book, you steal from the world."
Imagine a world in which anyone, anywhere, could create and distribute their own words, however ignorant or flawed! ... We cannot be weak if the Library is to resist this invasive, persistent disease of progress.
There are excerpts between chapters, with bits of history that contribute to the story, usually letters from historical figures, and some current important figures in the Library.
I particularly liked this excerpt. This is from a letter from Thomas Paine in 1795, voicing the Burner philosophy against the Library. Of course, access to this is strictly controlled and only accessible by the highest levels of the Library.
There are three parts to learning: information, knowledge, and wisdom. A mere accumulation of information is not knowledge, and a treasure of knowledge, in itself, is not wisdom.
The Library holds itself to be the keeper of both knowledge and wisdom, but it is not true. So much should never be held in the hands of so few, for it is a natural, venal habit of men to hold power. And knowledge is the purist form of power.
But there is no wisdom without knowledge, no progress without danger, and I am not the Library's child! I must argue my own information, build my own knowledge, and through experience, transform it into the treasured gold of wisdom.
This book went so many different directions that I never would have expected! It is fast-paced, and I loved everything about it! It made me laugh, it made me cry, and feel a whole wide range of emotions in between.
After finishing this book, I immediately downloaded
Paper and Fire
and started reading it, even though it was super late, and I probably should have just gone to bed...
Stay tuned for reviews for the next two books in the series! I'm about half-way done with
Paper and Fire
now.
I received a copy of this book from the publishers, through Blogging for Books, in exchange for an honest review.