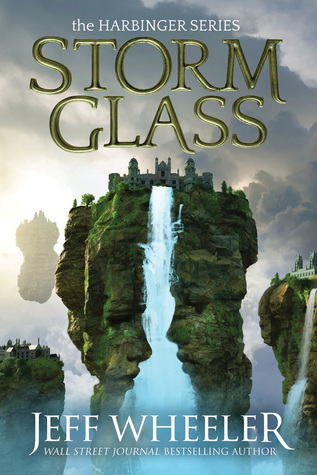 Theirs is a world of opposites. The priviledged live in sky manors held aloft by a secretive magic known only as the Mysteries. Below, the earthbound poor are forced into factory work to maintain the engine of commerce. Only the wealthy can afford to learn the Mysteries, and they use their knowledget to further lock their hold on society.
Cettie Pratt is a waif doomed to the world below, until an admiral attempts to adopt her. But in her new home in the clouds, not everyone treats her as one of the family.
Sera Firempress is a princess born into power. She yearns to meet the orphan girl she has heard so much about, but her father deems the girl unworthy of his daughter's curiosity.
Neither girl feels that she belongs. Each seeks to break free of imposed rules. Now, as Cettie dreams of living above and Sera is drawn to the world below, they will follow in the paths of their own choosing.
But both girls will be needed for the coming storm that threatens to overturn both their worlds.
Review
First, let me tell you something that I think is ABSOLUTELY AMAZING!!!
Even though this book was just released on June 19th, the sequel,
Mirror Gate,
is going to be released on August 28th! How awesome is that? One of the things I hate most about reading a good series is having to wait a year or more for the next book to be released. Thank you so much, Jeff Wheeler, for taking your readers into consideration and not making us wait on the edge our seats for who knows how long to see what happens next!
Something else that is ABSOLUTELY AMAZING: THIS BOOK!
I wasn't aware that the author of this series also wrote the
Legends of Muirwood
series. I actually won one of the Muirwood books in a giveaway on GoodReads, and I just never got around to reading them. I will now! This book is based on some aspects of the world in the Muirwood series, just very far into the future.
To understand this series, you don't need to read the other series first. However, now that I've become so interested in Cettie and her world, I definitely want to read the
Muirwood
series. The author's other series,
Kingfountain
, also looks really good!
Something that irked me a bit was that Cettie was so quick to leave the kids and Joses in the Fells. She was so concerned with their welfare but asked to leave She knew Joses was likely in jail and their guardian is a drunk who doesn't feed them, you would think that she would be more concerned about making sure that would be alright. This was just a little detail that made me scratch my head. It didn't detract from the story, though.
The author did an excellent job at world building and character development! I really like Cettie and Sera, and of course, Fitzroy! Sera's dad really pissed me off, though! He is a total assbutt! (Sorry, I've been watching way too much Supernatural.)
This book had so many twists and turns. I couldn't put it down, and I loved the ending! I am so happy that I have the sequel so that I can start reading it right now!
the author stated that this series will have 5 books. Since the first 2 are the only ones listed on
GoodReads
, it might be a while before I get to see what happens next, so it's a great time to catch up on some of his other work.
I received a copy of this book from the publishers, via NetGalley, in exchange for an honest review.