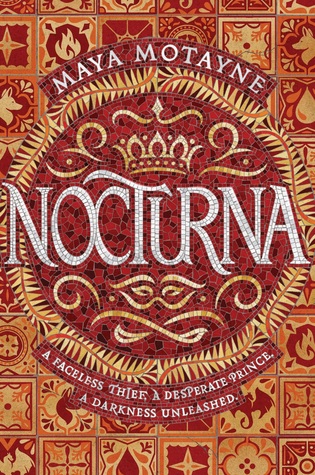 Set in a Latinx-inspired world, a face-changing thief and a risk-taking prince must team up to defeat a powerful evil they accidentally unleashed.
To Finn Voy, magic is two things: a knife to hold under the chin of anyone who crosses her... and a disguise she shrugs on as easily as others pull on cloaks.
As a talented faceshifter, it's been years since Finn has seen her own face, and that's exactly how she likes it. But when Finn gets caught by a powerful mobster, she's forced into an impossible mission: steal a legendary treasure from Castallan's royal palace or be stripped of her magic forever.
After the murder of his older brother, Prince Alfehr is first in line for the Castallan throne. But Alfie can't help but feel that he will never live up to his brother's legacy.
Riddled with grief, Alfie is obsessed with finding a way to bring his brother back, even if it means dabbling in forbidden magic.
But when Finn and Alfie's fates collide, they accidentally unlock a terrible, ancient power-which, if not contained, will devour the world. And with Castallan's fate in their hands, Alfie and Finn must race to vanquish what they have unleashed, even if it means facing the deepest darkness in their pasts.
Review
I have been reading quite the multicultural mix lately. Over the past few months, I've read books inspired by Russian fairytales, books based on Russian history (Romanov), books based on African culture (Children and Smoke and Bone and Binti - review coming soon). Plus, Mirage was based on Moroccan culture (how cool is that?).
I've been thinking that reading books that are based on or incorporate aspects from different cultures would make for a fun reading challenge. What do you think?
Of course, reading all of these other books that incorporate aspects from different cultures, I was super excited when I heard about this book. I have never read a YA fantasy book that was based on Latin culture. There are some that incorporate small aspects, but none with main characters or the main plot focusing on Hispanic culture.

One thing that I wish was different about this book was how they portrayed Alfie's drinking problem. Not many YA Fantasy books give any indication about the realities of substance abuse and how hard quitting can be. This book portrayed it as sheer will power that allowed him to stop drinking. While this was fine for the story, I wish that more YA fantasy books would give a more realistic glance at how prevalent substance abuse issues are and how hard quitting is, and that it cannot often be done by will power alone and usually requires seeking help. Prism Cloud, by Jeff Wheeler, was one book that did a good job at giving a glimpse at how hard it can be to stop using drugs, and most importantly, the character did not do it alone.

Can you tell that I am doing my counseling internship at a substance abuse treatment facility?

However, I do feel that although books like this are complete fiction, portraying characters a little more realistically when it comes to things like substance abuse might help someone struggling with something similar. For example, if someone with a drinking problem reads this book and cannot quit drinking by just using their will power, they may see that as a failure, think they cannot do it, and not try again another way or reach out for help.

I will get off my soapbox now, and don't let my little rant take away from the fact that I loved this book! I loved the magic. I loved the cultural aspects, but most of all, I loved the characters!

I especially 💓💓💓 Finn!

This book did an excellent job of introducing us to the characters and made us start to love them. I hope the next book allows us to get to know them better, watch them grow, and love them even more!

I received a copy of this book from the publishers, via Edelweiss, in exchange for an honest review.