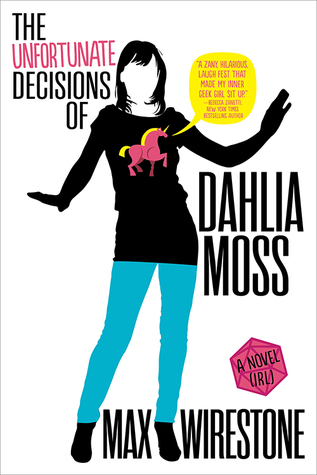 Immediately, the author reveals her wit in this book. The first few pages where Dahlia describes her life are hilarious.
Here are a couple of my favorites:
He said with a sparkle in his eye. The kind of sparkle you'd find on Santa's face. Or a mental patient's.
I don't mean that metaphorically - I fell off my chair. I didn't land on the floor because, legs - but to (be) perfectly clear: Ass left chair.
This is not the type of book that I would usually read, but I'm glad I did!
Although I might not have been clued into some of the geeky humor in the book, it did not take away from the reading experience.
Also, with these types of stories, I am usually somewhat able to predict the outcome, and in this case, I was way off. (Yeah, I admit it.)
Also, I would like to note (mainly to the author, although I am not delusional and know that she will likely not see this) that I did, in fact, read the acknowledgements in their entirety, mainly out of pure curiousity and with no intent to plunder his fortune.
I really liked this book and would totally read another Dahlia story.
I received a copy of this book for free from the publishers via NetGalley in exchange for an honest review.