I am doing this review a little differently than all of my other reviews, since I am doing one review for the trilogy, instead of three separate reviews. I am posting the review first, with a synopsis of each book below, so you don't have to read through all of them before getting to the review, in case you don't want any spoilers. I will also try to make my review as spoiler-free as possible.
I requested to read this trilogy a while ago, and frankly, I didn't realize that I was getting the whole trilogy, instead of just the first book. That was an awesome surprise, because after I finished the first book, I immediately wanted to keep reading the rest of the series!
I initially planned to do a separate post for each book, but as soon as I started reading the first book, I couldn't stop until I got to the end of the story (and even then, I was sad that I couldn't keep reading), and even though I knew that it was a trilogy when I started reading, I was super disappointed that there is not a fourth (and 5th) book that continues the story after
Immortal Fire.
While it took me a few chapters to get into the first book, once the action starts, it doesn't stop! The first few chapters were needed for world building, as there are many different aspects to learn before getting into the main part of the story.
The author did an excellent job of this! She did a great job of world-building and explaining all the intricacies involved with Emi's commitment and connection to Amaterasu.
I seriously got soooo sucked into these books! I absolutely loved
EVERYTHING
about them!!!!
I fell in love with the characters, their world, and absolutely
EVERY
aspect of the book! I am super impressed by Annette Marie! She not only did an excellent job of building this amazing world, filled with gods and goddesses, and their "counterparts," yokai, but she also wove all of this into traditional Japanese culture.
I loved Emi! I love the transition she goes through in the book. In the beginning, she is so sheltered and timid of any and all life experiences that are normal for most girls her age, but by the end, her perception of the world has changed and she is going extraordinary things that most girls her age couldn't dream of.
After saying that, I have to say: I
♥ ♥ ♥
Shiro!!! I loved his personality and how mischievous he is! I love how his relationship with Emi starts and how it evolves throughout the books!
I know that I am SUPER critical of most books and their romantic aspects. I even fell in love with the romance in these books... The author wrote it so well!
I really cannot say enough good things about this series, and I definitely can't say anything bad!
I will say that I am super sad to be leaving Emi and her magical world behind. I'm sad that it's a trilogy, and I won't get to see what happens after
Immortal Fire
ended. However, I still
CAN'T EVEN
get over how the story ended! I think it was the perfect ending to an amazing trilogy!
I encourage anyone who likes YA fantasy to read this trilogy! Even if you (like me), are tired of typical romantic aspect included in many YA fantasy books, that tend to take the focus away from the story and the characters, I guarantee that the romance in the book is an exception.
I received these books through
Xpresso Book Tours
, in exchange for an honest review.
In a few short months, Emi's mortal life will end when she becomes the human host of an immortal goddess. Carefully hidden from those who would destroy her, she has prepared her mind, body and soul to unite with the goddess - and not once has she doubted her chosen fate.
Shiro is a spirit of earth and an enemy of the goddess Emi will soon host. Mystery shrouds his every move, and his ruby eyes shine with cunning she can't match and dares not trust. But she saved his life, and until his debt is paid, he is hers to command - whether she wants him to not.
On the day they meet, everything Emi believes comes undone, swept away like snow upon the winter wind. For the first time, she wants to change her fate - but how can she erase a destiny already wrought in stone? Against the power of the gods, Shiro is her only hope... and hope is all she has left.
Red Winter includes 10 full-page illustrations by award-winning artist Brittany Jackson.
Emi has dedicated her life to becoming the perfect vessel for the goddess Amaterasu, but the insidious betrayal of another deity has changed everything. Now, Amaterasu has charged Emi with an urgent mission: to find and free the earthly gods before mankind is brought to its knees beneath divine tyranny.
At her side is Shiro, the mysterious fox spirit. When she first saved his life, she could never have imagined that behind his cunning and confidence, he was lost - his power bound by a devastating curse and his memories obscured. His veiled history is somehow tied to the missing gods, but he can't remember how or why.
As their search leads them into the murky depths of the spirit realm, the shadows of Shiro's past begin to emerge. With each brief awakening of his true self, she loses a little more of him. The fate of the heavens and earth rest in her mortal hangs, and she must find the missing gods before time runs out for her world -- and for Shiro.
Dark Tempest includes 10 full-page illustrations by award-willing artist Brittany Jackson.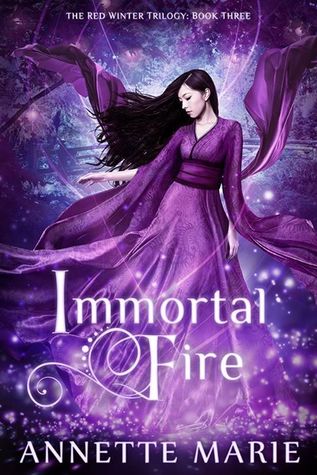 Once, Emi believed the heavenly gods were righteous and wise, while the earthly yokai spirits were bloodthirsty and evil. But with a traitorous deity poised to destroy her world, and the yokai standing as humanity's only defense, the lies of her upbringing have toppled to reveal a far more terrifying reality.
Despite the looming threat, Emi can't escape her greatest distraction: Shiro, the fox yokai who has so deftly claimed her heart for his own. Soon - too soon - she will have to break the curse that minds his magic and memories. And once the ancient power inside him awakens, the yokai she loves will be changed forever.
As the earthly gods gather to wage war against the heavens, Emi and Shiro must gamble everything to turn the tide against their immortal, all-powerful foes. Together, the will find a way to save the world - even if it means losing each other.