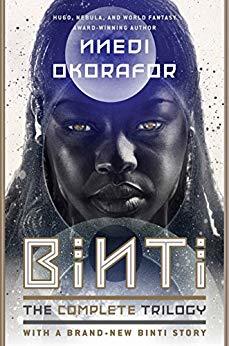 Includes a brand-new Binti story!
Collected for the first time in an omnibus edition, the Hugo-and Nebula-award-winning Binti trilogy, the story of one extraordinary girl's journey from her home to distant Oomza University.
In her Hugo- and Nebula-winning novella, Nnedi Okorafor introduced us to Binti, a young Himba girl with the chance of a lifetime: to attend the prestigious Oomza University. Despote her family's concerns, Binti's talent for mathematics and her aptitude with astrolabes make her a prime candidate to undertake this interstellar journey.
But everything changes when the jellyfish-like Meduse attack Binti's spaceship, leaving her the only survivor. Now, Binti must fend for herself, alone on a ship full of the beings who murdered her crew, with five days until she reaches her destination.
There is more to the histroy of the Medusae--and their war with the Khoush--than first meets the eye. If Binti is to survive this voyage and save the inhabitants of the unsuspecting planet that houses Oomza Uni, it will take all of her knowledge and talents to broker the peace.
Collected now for the first time in omnibus form, follow Binti's story in this groundbreaking sci-fi trilogy.
Review
This book was like nothing else I've ever read!

I wasn't really sure what to expect when I started reading this book. I saw it recommended several places, so when I saw it on Netgalley I had to read it, but I didn't know much about it.

The Binti series is a trilogy of novellas. I read the omnibus edition, with all three novellas put in one book. While, as a whole, they were good, I think it would be better to review them separately.
Book #1: Binti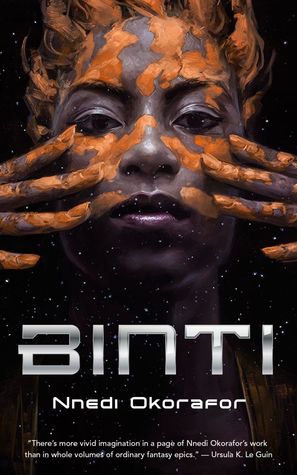 Her name is Binti, and she is the first of the Himba people ever to be offered a place at Oomza University, the finest institution of higher learning in the galaxy. But to accept the offer will mean giving up her place in her family to travel between the starts among strangers who do not share her ways or respect her customs.
Knowledge comes at a cost, one that Binti is willing to pay, but her journey will not be easy. This world she seeks to enter has long warred with the Meduse, an alien race that has become the stuff of nightmares. Oomza University has wronged the Meduse, and Binti's stellar travel will bring her within their deadly reach.
If Binti hopes to survive the legacy of a war not of her making, she will need both the gifts of her people and the wisdom enshrined within the University, itself - but first, she has to make it there, alive.
Review
I loved this book! It introduces us to Binti, who has just decided to leave her home to travel through space to Oomza University, something unheard of for the Himba people, especially a girl.
I absolutely loved the story and the multicultural and self-exploration messages behind it. I sped through this book and was super excited to move on to the next.
I like the representation of PTSD in this book. Throughout the book, Binti continuously has flashbacks about being on the ship to Oomza Uni.
Book #2: Home
It's been a year since Binti and Okwu enrolled at Oomza University. A year since Binti was declared a hero for uniting two warring planets. A year since she abandoned her family in the dawn of a new day.
And now she must return home to her people, with her friend Okwu by her side, to face her family and face her elders.
But Okwu will be the first of his race to set foot on Earth in over a hundred years, and the first ever to come in peace.
After generations of conflict, can human and Meduse ever learn to truly live in harmony?
Review
I loved the first book, but this book was a little slow for me. It was taking me a while to get through the first half of it, so I checked out the audiobook from the library. I enjoyed listening to the audiobook much more than I enjoyed reading this book.
As with the first book, the author did an excellent job of showing us Binti's culture. In this book, she faces the repercussions of leaving her family home to go to Oomza University. She also comes back a different person, something most of her family struggles to understand.
While I didn't enjoy this book as much as the first, it was still good. I loved the ending and couldn't wait to see what happened next.
Book #3: The Night Masquerade
The concluding part of the highly-acclaimed science fiction trilogy that began with Nnedi Okorafor's Hugo-and Nebula Award-winning BINTI.
Binti has returned to her home planet, believing that the violence of the Meduse has been left behind. Unfortunately, although her people are peaceful on the whole, the same cannot be said for the Khoush, who fan the flames of their ancient rivalry with the Meduse.
Far from her village when the conflicts start, Binti hurries home, but anger and resentment has already claimed the lives many close to her.
Once again, it is up to Binti, and her intriguing new friend, Mwinyi, to intervene--though the elders of her people do not entirely trust her motives--and try to prevent a war that could wipe out her people, once and for all.
Review
This book picked things back up a bit. However, I wasn't sure about the ending.
Overall, I would recommend this book to anyone, just because it is something so different, and I think everyone should try it out.
I listened to half of the 2nd book and the whole 3rd book as audiobooks, and I enjoyed that much more than reading them.
Thank you to the publishers and Netgalley for giving me a copy of this book, in exchange for an honest review.