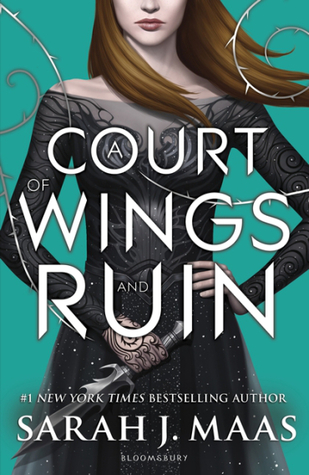 Looming war threatens all Feyre holds dear in the third volume of the #1 New York Times bestselling A Court of Thorns and Roses series.
Feyre has returned to the Spring Court, determined to gather information on Tamlin's maneuverings and the invading king threatening to bring Prythian to its knees. But to do so, she must play a deadly game of deceit - and one slip may spell doom, not only for Feyre, but for her world, as well.
As war bears down upon them all, Feyre must decide who to trust amongst the dazzling and lethal High Lords - and hunt for allies in unexpected places.
In this thrilling third book in the #1 New York Times bestselling series from Sarah J. Maas, the earth will be painted red as mighty armies grapple for power over the one thing that could destroy them all.
Review
In case you haven't read the first two books in the series, I will try to keep spoilers to a minimum.
The second I finished
A Court of Mist and Fury
, I immediately started reading this book. I am so glad that I checked out both book at the same time.
I can't believe I waited so long after reading
ACOTAR
to read the next two books in the series! They were AMAZING! They made me laugh. They made me cry (like a baby). They made me fear for the characters' lives at some points, and feel a whole wide range of emotions in between these.
While the majority of the first two books take place in the Spring and the Night Courts, this book allows us to travel more around Prythian and get a glimpse into life at the other course, and we learn about the High Lord his book absolutely blurred the lines between friends and enemies at some points. I loved it!
I ♥ ♥ ♥ Rhys! I've never really identified with people that get crushes on fictional characters from books, but Rhys definitely gave me all the feels!
Reading this book made it official, Sarah J. Maas is definitely my new favorite author! This book exceeded my expectations, as always. After reading
ACOMAF
and this book, I'm not sure if I think this series or the
Throne of Glass
series is better.
I am thrilled that GoodReads shows three more
ACOTAR
books and one novella. However, the novella will not be released until May 2018, and all book #4 says is expected publication: 2019.
I still have book #6 in the Throne of Glass series,
Tower of Dawn,
to read before then, but I don't know what I'm going to do with out any Sarah J. Maas to hold me over until then... I'm already considering re-reading this series...